Our goal at NEBTEK is to provide the necessary equipment to help video assist and production professionals organize and utilize their existing and future equipment. The Universal Video Assist System is one step closer to that goal. For years NEBTEK has manufactured carts for our popular QTAKE Systems, but we wanted to expand our vision to include existing systems including the popular Raptor HD.
Universal Video Assist Cart
The Universal Video Assist system is highly customizable cart with many different options for you to choose from:
Mac Pro System
MacBook System
NEBTEK Briefcase X2 System
NEBTEK Lightning Single or Dual Systems
Dual Raptor HD QUAD System
Dual Raptor HD DUAL System
Each cart is fitted with a NEBTEK manufactured, removable 7 RU unit that includes:
VA Mixer with rack mount
Blackmagic Videohub (optional 12x12 or 20x20)
Custom Neutrik rear panel (image shown subject to change)
1 RU Mid-Atlantic shelf
Tripplite rackmount power strip
Audio and video connectors depending on choice of hub
Audio and video wiring depending on choice of hub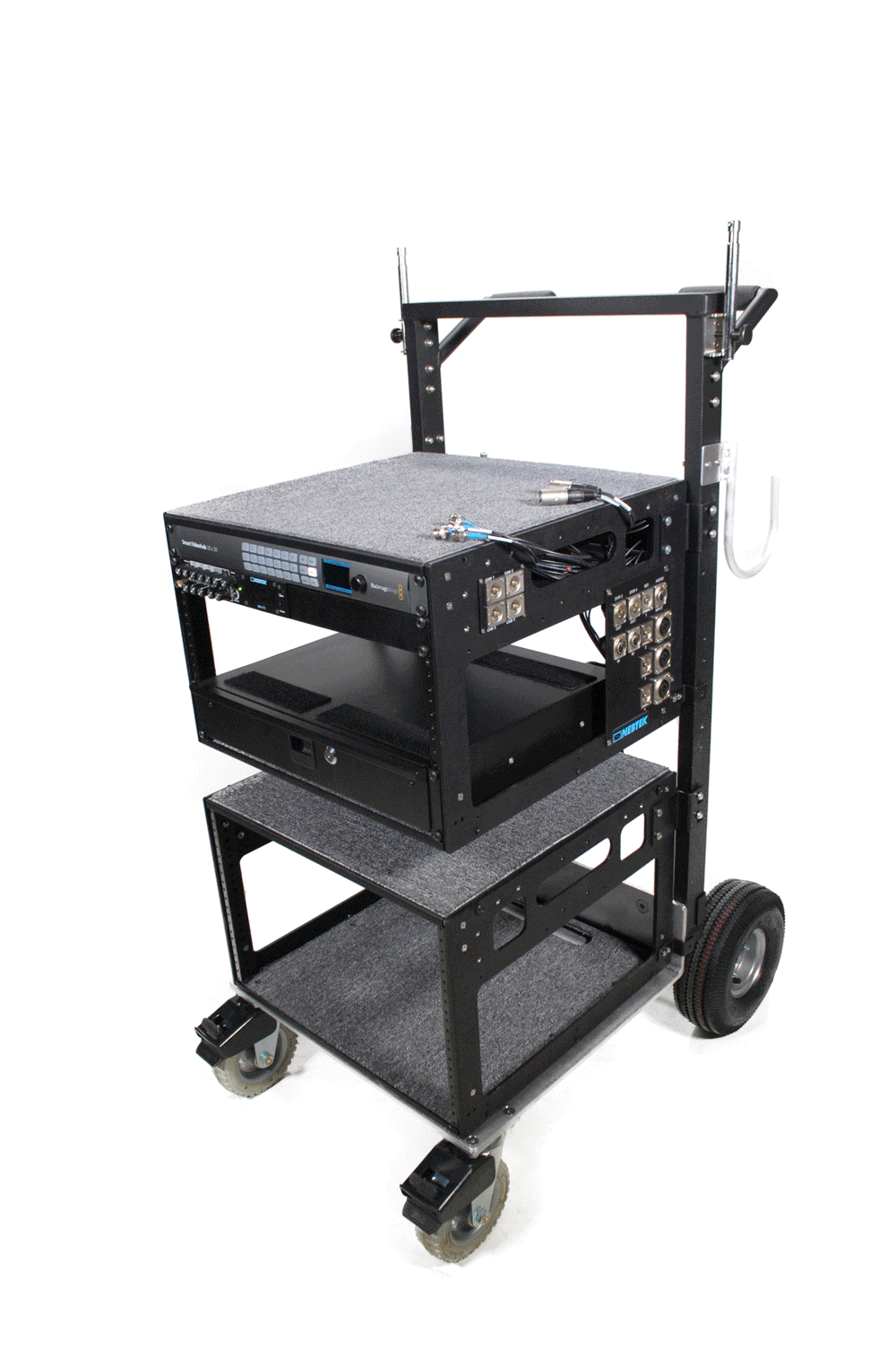 ---
VA Mixer
The VA Mixer allows input to be sent to up to 4 DVR's where each DVR can be switched individually to the output monitors. The headphone mixer allows the user to mix 1, 2, or all 3 intercom inputs as well as the selected DVR and the line input to your headphones.
The professional quality of the mixer makes for an enjoyable work experience. With its de-popping of the talk-back mic, professional compression and limiting circuits, this is the audio solution we've been waiting for.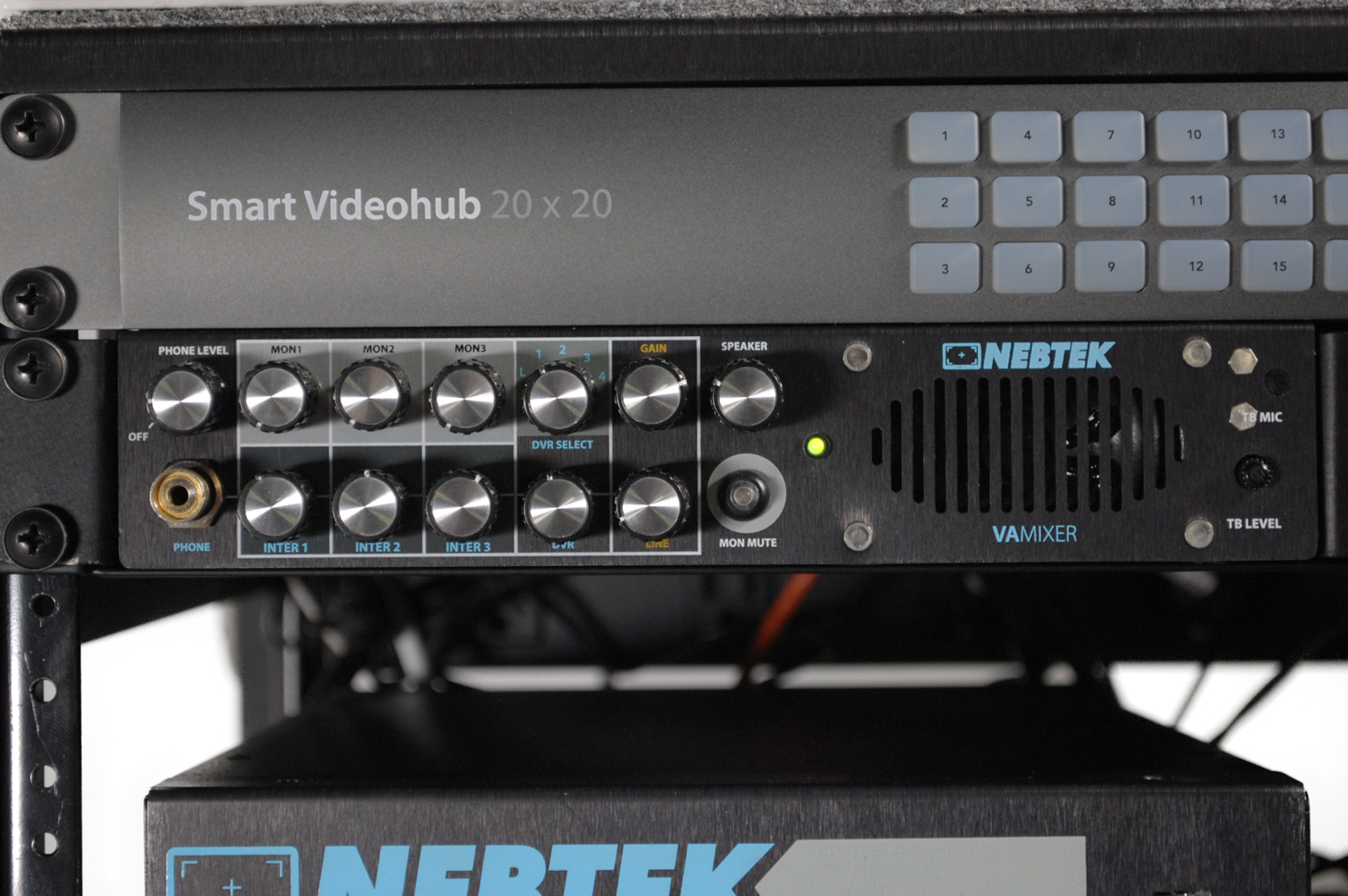 ---
Nebekart
The Nebekart includes two side panels for easy wiring for audio/video input and output. All wiring is completed once a Video Hub is chosen. We wanted to build a cart system that will work with your equipment, so if you would like more customization of your cart, please call us and we will see what we can do to accommodate you.
The cart itself, called the NEBEKART, includes the 7RU box with a cable hook on each side of the vertical frame and two mounting pins for additional equipment like monitors or receivers.
The 19-inch wide frame is made of lightweight aluminum for strength and two front pneumatic wheels so you can easily maneuver your equipment while on set or on location.

NEBTEK REWARDS PROGRAM
The Nebtek rewards program will be starting November 1, 2016. The new program will give store points on every purchase made through the online store*.
Nebtek Branded Products
Every $100.00 USD = 2 Points
Other Brands
Every $100.00 USD = 1 Point
1 Point = $1 USD
Your account will be credited once your order has been shipped. You can use your points on any future purchases from the online store.
Points must be used within 365 days after the points have been issued. Any points not used within the 365 days will be lost.
*Points do not apply to Qtake systems, Qtake HD Software, QOD+ or cart systems.
Nebtek is a sales and rental house for everything video assist from cables and battery adapters to monitors and recorders, we are located in Salt Lake City UT, Sun Valley CA, and Atlanta GA. Check us out online or give us a call at (801) 467-1920